Toyota Floor Mats And Mudguards

Mats and Mudguards


Your Toyota's stylish looks played into your auto purchase, so protect its appealing appearance inside and out with floor mats and mudguards from Toyota of Fort Walton Beach, FL.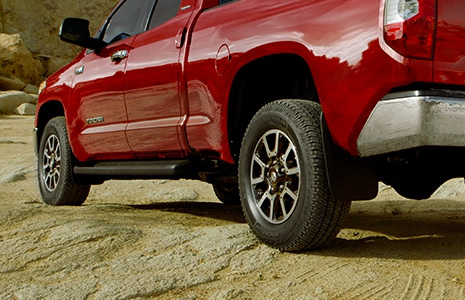 All-Weather Mats


Protect your vehicle's original carpet from debris and stains with all-weather floor mats specifically designed to fit your Toyota. These rugged, mats feature a ribbed-channel design that helps contain moisture, dirt and other debris, and the driver's side mat has quarter-turn fasteners, and the skid-resistant backing on all the mats will help keep them in place.


Carpet Floor Mats


Genuine Toyota carpet floor mats also provide protection for the interior carpet, but they also offer a pleasing, aesthetic quality to the interior design. These plush, long-wearing mats are covered in a durable, fade-resistant carpet and feature your Toyota model's logo. The driver's side mat stays in place with quarter-turn fasteners, and all mats have skid-resistant backing to ensure they don't slide around.


Mudguards


Whether you drive a Toyota sedan, truck, or SUV, you can protect your paint finish from road debris damage with mudguards. They come in a set of four and blend seamlessly with your exterior styling for extra defense from any dust your vehicle kicks up.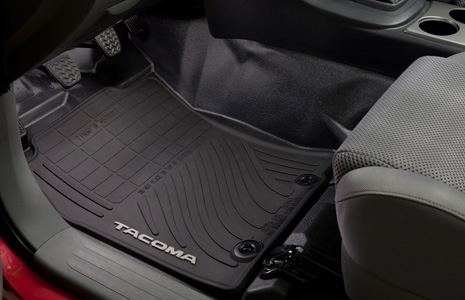 Sales Hours
850-357-8984
| | |
| --- | --- |
| Monday | 9:00 am - 7:00 pm |
| Tuesday | 9:00 am - 7:00 pm |
| Wednesday | 9:00 am - 7:00 pm |
| Thursday | 9:00 am - 7:00 pm |
| Friday | 9:00 am - 7:00 pm |
| Saturday | 9:00 am - 6:00 pm |
| Sunday | Closed |
Service Hours
850-357-8982
| | |
| --- | --- |
| Monday | 7:00 am - 6:00 pm |
| Tuesday | 7:00 am - 6:00 pm |
| Wednesday | 7:00 am - 6:00 pm |
| Thursday | 7:00 am - 6:00 pm |
| Friday | 7:00 am - 6:00 pm |
| Saturday | 8:00 am - 3:00 pm |
| Sunday | Closed |
Parts Hours
850-357-8983
| | |
| --- | --- |
| Monday | 7:00 am - 6:00 pm |
| Tuesday | 7:00 am - 6:00 pm |
| Wednesday | 7:00 am - 6:00 pm |
| Thursday | 7:00 am - 6:00 pm |
| Friday | 7:00 am - 6:00 pm |
| Saturday | 8:00 am - 3:00 pm |
| Sunday | Closed |
Used Car Department Hours
| | |
| --- | --- |
| Monday | 9:00 am - 7:00 pm |
| Tuesday | 9:00 am - 7:00 pm |
| Wednesday | 9:00 am - 7:00 pm |
| Thursday | 9:00 am - 7:00 pm |
| Friday | 9:00 am - 7:00 pm |
| Saturday | 9:00 am - 6:00 pm |
| Sunday | Closed |
Make Ready Department Hours
850-863-2167
| | |
| --- | --- |
| Monday | 7:00 am - 7:00 pm |
| Tuesday | 7:00 am - 7:00 pm |
| Wednesday | 7:00 am - 7:00 pm |
| Thursday | 7:00 am - 7:00 pm |
| Friday | 7:00 am - 7:00 pm |
| Saturday | 7:00 am - 7:00 pm |
| Sunday | Closed |