SE, GT, LX—What On Earth Do These Toyota Trims Mean?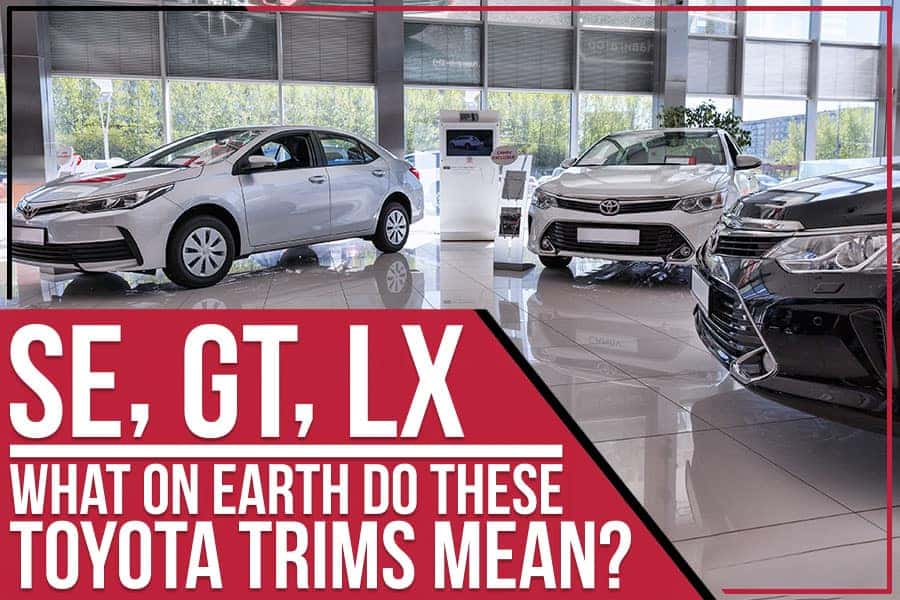 When you decide to get a new car, one of the first things you'll need to decide is which car trim level to choose. But what do all those cryptic letters and numbers mean? Is there really that much of a difference between a SE and an LX? In this quick guide, we'll take a look at what each trim level offers so that you can decide better for your needs.
The Difference Between Car Trim Levels
Car trims levels are the different versions of a model car manufactured by the same company. The term "trim" refers to the decorative finishes and upholstery used inside the car, while the "level" refers to the features and amenities included with each version. In other words, trim levels are designed to give you more options and flexibility when choosing your ideal car.
So, what's the difference between all those letters and numbers? Here's a quick guide:
SE: Sports Edition or Standard Equipment
The SE trim is usually the base model, which means it comes with the essential features and equipment. It's a great choice if you're looking for a budget-friendly option.
GT: Grand Touring
The GT trim is often the next step up from the SE, and it usually includes upgraded features and equipment. For example, you might find a GT model with a more powerful engine or better audio system.
LX: Luxury
The LX is the luxury version of a car, and it comes with all the bells and whistles. You can expect features like leather seats, a premium sound system, and an automated navigation system. Of course, all these loaded perks come at a higher price tag.
Why Do Manufacturers Offer Different Trim Levels?
Different buyers have different needs, and that's why manufacturers offer different trim levels. By offering diverse options, manufacturers appeal to a wider range of customers.
Some people prefer driving a basic model with the usual amenities. Others want a car with all the latest gadgets and gizmos. And still, others are somewhere in between. By offering different trim levels, manufacturers can make sure there's a car out there for everyone.
How Do I Choose the Right Car Trim Level?
The best way to choose the right trim level is to think about what you need and can afford. Make a list of the features you prefer and the models that offer them. Once you've narrowed it down, you can start thinking about price.
Be sure to test drive each model before making your final decision. This will give you a better feel for the car and help you decide if the features are worth the extra money.
Make an informed decision when you buy your next Toyota! Visit Toyota of Fort Walton Beach, serving Navarre, FL, and explore the different models and trim levels we have on show. Our dealership professionals offer exemplary assistance, introducing car trim levels and explaining their features, making it easier for you to decide.
Browse our diverse inventory and shortlist options that suit you.